Erection jelly Kamagra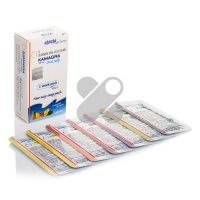 Whether you are looking to improve your performance in the intimate sphere, or to effectively remedy potency disorders, the potency gel Kamagra Oral Jelly is just for you and offers solutions to both issues. Kamagra Oral Jelly is practically the generic Viagra, which contains 100 mg of the active ingredient sildenafil citrate in one dose. Right after the first use, Kamagra Oral Jelly gives you a 4 to 6 hours lasting effect, which is intended for satisfying sexual intercourse of both partners.
How does the potency gel (Kamagra Oral Jelly) work?
Erection jelly Kamagra is a stimulant that specifically strengthens the blood flow in the area of the tissues of the sexual organ in a specific way so that the desired and effective erection can be achieved. The use of Kamagra Oral Jelly is very simple: from a small bag, they squeeze the contents either on a spoon or directly into the mouth and swallow the gel, about 15 to 30 minutes before the planned sexual intercourse. You can buy this potency gel in our e-shop in several fruit flavors - its use is therefore not only simple but also tasty. Perhaps half a dose of the drug will be enough for them, that is 50 mg of the active ingredient sildenafil citrate, as is the case with many customers. They can further either reduce or increase the amount of the active ingredient taken according to their needs. Note, however, that you should never exceed the maximum recommended daily dose of 100 mg of the active ingredient, or one sachet of Kamagra potency gel in 24 hours. Before using Kamagra Oral Jelly, you should avoid drinking alcohol and fatty foods to maximize the effect of the potency gel.
What is sildenafil citrate
The Kamagra Oral Jelly Mouth Gel is based on the active ingredient Sildenafil citrate. This active base of the drug provides for the correction of erectile dysfunction by inhibiting phosphodiesterase 5 (PDE5), which is an enzyme that reduces the duration or strength of erections by decreasing the penile blood flow (by breaking down the natural vasodilator).
With the potency-supporting mouth gel Kamagra Oral Jelly, just as with all other medicines in the world, there is a risk of the appearance of some unwanted side effects. Please always pay attention to the following:
More frequent unwanted side effects:
Redness in the face
Ease headaches
Nasal congestion
Nausea
Irritated stomach
Back pain
Rare to sporadic unintended side effects:
Photosensitive reactions
A strong erection lasting longer than 6 hours (priapism)
Sudden changes or loss of vision
Sudden changes or loss of hearing
Twilight states and lethargy
If you observe any of these unwanted side effects, you should, without any hesitation, choose your treating physician or ask for help from another professional and responsible person.